The Hailer & Jitsi integration (BETA) allows you to create a video meeting links directly in the Hailer Discussion
We are currently improving our video calling capabilities and we are planning to release an improved version in August. Until then, the video calling capability in Hailer is unfortunately limited.
The importance of video calls has skyrocketed lately. To keep things simple we made this integration with Jitsi. You can now open a video conference straight from Hailer chat and invite all the participants with one click.
What is Jitsi?
Jitsi is an easy-to-use, fully encrypted video conferencing solution. It is free to use, anyone can use it without registration or accounts. With Jitsi you can have video conference meetings and share your screen with the participants. We added a button to Hailer, where you can open a Jitsi meeting with one click of a button.
If you like, you can install a Jitsi extension to your browser or download the mobile app.
How does it work?
Open a new meeting by clicking the video meet icon in the top bar of your discussion (top right corner).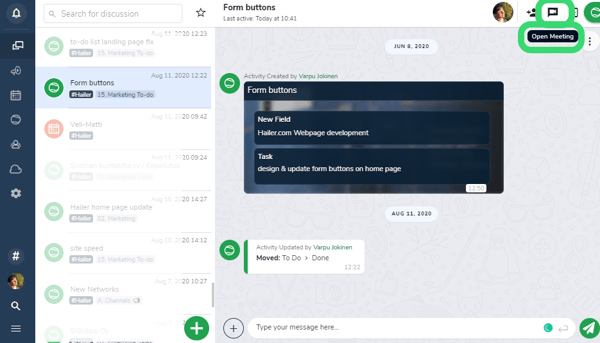 This will open a new window (remember to give Jitsi permissions to use your microphone and speakers).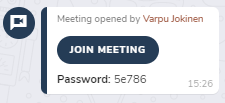 When the person who opens the meeting joins it, Jitsi will automatically generate a join meeting link and a password to the same discussion channel where it was opened. Everyone can then join the conference call.
Jitsi is not supported in Firefox, we recommend to use Chrome.
The functionality is still a BETA version and we are happy to hear feedback about it. Drop us a message at info@hailer.com